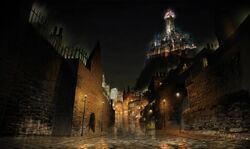 The City of the Damned is a settlement in the video game Shadows of the Damned. It is ruled by Fleming and is home to his legions of demons, some of which Johnson refers to as Fleming's "VIPs," who receive special treatment above all other inhabitants of the city. These are George Reed, the Sisters Grim (Maras, Kauline and Giltine), Elliot Thomas and Justine Divangelo. Johnson too was once a resident of the City of the Damned, before being banished and stripped of his body. Johnson returns with Garcia Hotspur when Hotspur ventures into the city in search of his girlfriend, Paula.
Ad blocker interference detected!
Wikia is a free-to-use site that makes money from advertising. We have a modified experience for viewers using ad blockers

Wikia is not accessible if you've made further modifications. Remove the custom ad blocker rule(s) and the page will load as expected.